When I visualize my future as an LGBT senior living in Madison, Wisconsin and aging in place, I imagine residing in a community of like-minded individuals committed to mutual support and fellowship, while we share spaces to congregate, celebrate, recreate and engage in creative collaboration. I would also need a private, personal space — a room of my own —a place to retreat, rest, meditate and write.
UPDATE: This post was written three years ago at the beginning of the dreaming and development stage of creating a new LGBT-friendly, diverse, and inclusive cohousing community. There have been many exciting changes. To learn more about CohoMadison and how you can become a member of Madison's newest cohousing community, click here.
If I Lived Here, I'd Be Home by Now!
In a perfect world, I would live in a walkable neighborhood with a library and community center, a medical clinic, grocery store, and coffee shop or restaurant where I could meet friends and entertain family; I'd have easy access to mass transit, parks and green space, the arts, and the educational and cultural offerings of the city. I'd live in a vibrant neighborhood that celebrated diversity and progressive values.
This dream may become a reality. Union Corners is a mixed-use development by Gorman & Company working with community partners including the Design Coalition Institute, SASY (Schenk-Atwood-Starkweather-Yahara) Neighborhood Association, the City of Madison, and a broad coalition of individuals who support LGBT-friendly senior cohousing. The project is currently in the design and development stage. Gorman representatives have been meeting with stakeholders, neighbors, potential tenants and the community to create a plan for Union Corners.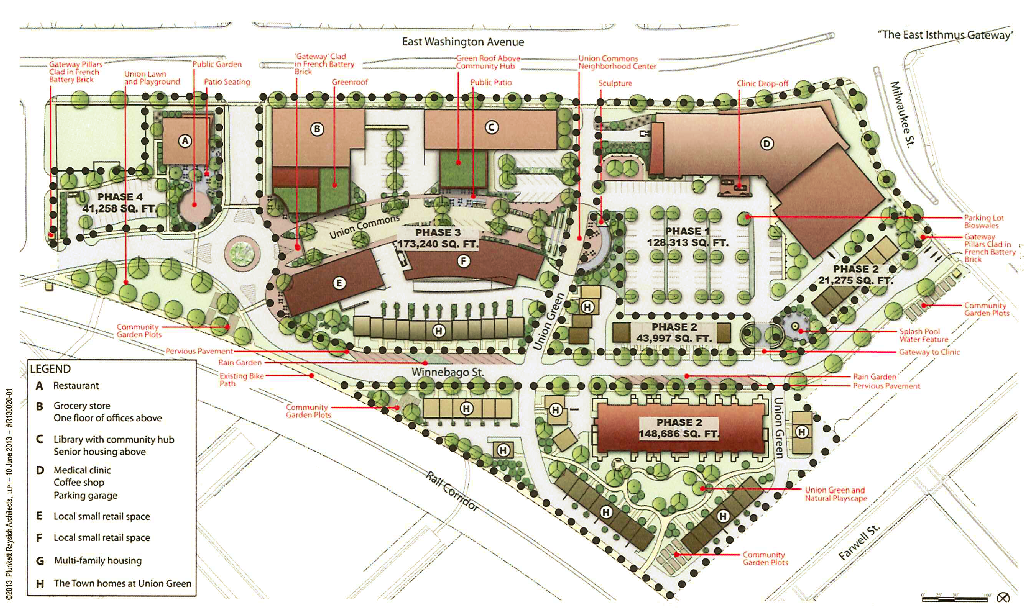 Potential tenants include UW Clinics, Hawthorne Library with community meeting rooms, a grocery store with offices above and a restaurant. The LGBT-friendly senior cohousing under consideration would be 20 – 40 units of varying size, a mix of personal and community spaces and may be located above or near the library. The project will be completed in three phases with townhomes, green space and community gardens. See preliminary plans above.
Madison LGBT community members and allies interested in learning more about Union Corners, the LGBT-friendly senior cohousing proposal and how to become involved are invited to the next organizational meeting, Wednesday, November 6, 2013, from 6:00 – 7:45 at the Hawthorne Library, 2707 E. Washington Ave.
Background and Definitions
Note: The following project background and definitions are compiled from websites and articles previously published and sources are noted.
Union Corners
City and Developer Complete Union Corners Agreement
The City of Madison and Gorman & Company of Oregon, Wisconsin have signed a Letter Of Intent to proceed with developing Union Corners. District Six Alder Marsha Rummel announced the successful negotiations with Gorman to purchase the City-owned property in an email to constituents. When completed, the development will include a health clinic, Madison Library branch and 50-100 housing units.
Rummel, whose district includes the Union Corners property, will introduce a resolution approving the Union Corners Selection Committee's recommendation of Gorman & Company as the developer and authorizing the City to execute a purchase agreement for the property in the sum of $1.
The project will commence in four phases, the first being a 60,000 square foot University of Wisconsin Health System medical clinic with parking. Phase 2 will feature 50 to 100 residential units with parking, Phase 3 and 4 may include a public library branch, more residential units, other retail spaces and of course parking. The last two phases may be developed out of order based on market conditions.
Per the agreement the developers must demonstrate the entire project requires $6 Million in Tax Incremental Financing (TIF), provided by the city, to earn the public assistance. The LOI notes that Phase 1 may be developed without the financing. At the time of closing Gorman must have a signed lease for a medical clinic tenant and secured through private financing at least 15% of the cost of the entire project.
The push to develop the site has been going on for a decade starting with McGrath Associates which had an approved plan with neighborhood support for mostly residential buildings in 2004 but the economic downturn derailed the project by 2007. Union Corners had been dying a slow death for decades as businesses struggled to exist on that corner and Ray-O-Vac's manufacturing plant faded away. In 2010 the city purchased the site for $3.57 million and issued an RFP in June 2012.
Four developers and one community group submitted RFPs but one by one before the committee took any action each of the groups dropped out until only Gorman remained.
"My thanks to all the stakeholders who worked for so many years to create a new Union Corners neighborhood!" Marsha Rummel said in the email.
(Source: Previously published in the Eastsider, June 13, 2013 and reprinted in the Willy Street Blog)
What is Cohousing?
Cohousing is a type of collaborative housing in which residents actively participate in the design and operation of their own neighborhoods. Cohousing residents are consciously committed to living as a community. The physical design encourages both social contact and individual space. Private homes contain all the features of conventional homes, but residents also have access to extensive common facilities such as open space, courtyards, a playground and a common house. (Source: Cohousing.org).
The Six Defining Characteristics of Cohousing
Participatory process
Neighborhood design
Common facilities
Resident management
Non-hierarchical structure and decision-making
No shared community economy
To read more visit: Cohousing.org
What is Elder or Senior Cohousing?
Cohousing came to the U.S. 15 years ago from Denmark, where intergenerational communities gave birth to a successful age-specific cohousing model for active elders. The first elder-only cohousing for active adults, 55 and above, are just now emerging in the U.S. Design features include easy access for all levels of physical activity and may also include studio residences in the common house to provide living quarters for home health aides whose services may be shared by several residents. (Source: Cohousing.org).
Cohousing Communities in Madison
Arboretum Cohousing
Arboretum Cohousing includes 29 new homes in 2 beautiful, multi-family buildings, 3 rehabbed townhouse homes, a duplex built by Habitat for Humanity, and 6 existing single-family homes.
Arboretum Cohousing is within walking distance to the revitalized downtown Madison, University of Wisconsin-Madison, and Edgewood College. To see photographs and read more visit Arboretum Cohousing.
Troy Gardens
Troy Gardens is an award-winning 31-acre project on the North side of Madison which combines community gardens, a working CSA farm, a restored prairie, and a thirty home mixed-income cohousing community. Madison Area Community Land Trust (MACLT) began working on Troy Gardens in 1995 along with a wonderful group of collaborating organizations, and after 12 years, finally completed the housing component in 2007. Future plans include a community common house. (Source: Madison Community Land Trust)
Village Cohousing
The Village Cohousing Community is Madison's first cohousing project. It is located on Mound, South Mills Street and St. James Court in the Greenbush neighborhood. Designed-by award-winning Design Coalition of Madison construction was completed in 1999. There are 18 units in all, 15 in three newly- constructed buildings and three in two existing houses on half of a city block. (Source: Village Cohousing Community).
The Developer and Community Partners
Gorman & Company, Inc.
The following quote and vision for the project is reprinted from the Gorman & Company, Inc. website:
"At Gorman & Company, we work to revitalize communities through innovative housing partnerships. As a trusted partner and respected industry leader since 1984, we specialize in: downtown revitalization; the preservation of affordable housing, workforce housing, and the adaptive reuse of significant historic buildings."
Gorman's Vision for the Union Corners
Gorman & Company, Inc. believes that we will be able to transform Union Corners by integrating history and modernization into the development of commercial, retail, and residential buildings and green space for the neighboring community. We have been selected as the developer for UW Health in their bid to relocate their east side clinic to a Union Corners location.
In addition to the UW Health clinic, we have been in discussions with several other potential commercial tenants including a local grocer, restaurant and the relocation of the Hawthorne branch of the Madison Public Library. These major tenants make up the majority of the commercial/retail space that we have planned on the site. These types of tenants will bring positive energy to the area community as they include job growth and reliable income for taxes on the parcel. Gorman & Company believes that the infill of these commercial and retail clients will also help establish a great residential neighborhood.
The residential portion of the neighborhood will include affordable and market rate apartments as well as townhomes and single-family homes. We envision a residential neighborhood that combines an Americanized-Woonerf style with traditional architecture that is compatible with the surrounding residential neighborhoods. Other site amenities include a Union Commons that will function a neighborhood center, sculptures by renowned native American artist and Ho-Chunk member Truman Lowe, community gardens, splash park, bike paths and re-use of the French Battery building bricks to form monument signs and other landscaping features.
Design Coalition
The Design Coalition Institute Mission and Values:
Design Coalition was founded with the mission of serving and empowering people who are without access to quality design and construction expertise. Today, we have evolved into a small architectural firm that still specializes in socially conscious and ecologically responsible design. We have always sought ways to serve a greater community good through our professional practice, engaging in the public debate that questions how and why we all plan and build as we do. We work with our clients and the community, not only for a successful project, but also for positive change. We accept our responsibility to help safeguard and restore natural systems.
For a long time, we have been convinced that mainstream building and planning practices in the United States are too often driven by shortsighted profit-seeking and inertia, and can no longer be supported by the planet. We have always endeavored to design buildings and sites that are not only functional and beautiful, but resource- and energy-efficient, non-toxic, and healthy – creating a built environment that will endure into the future, leaving a smaller ecological footprint on our planet.
We bring the same values to our work whether for non-profit groups, businesses, or homeowners. We take seriously our role in educating clients and we enjoy learning along with them. We are always eager to work with clients and partners who bring a social and ecological consciousness to a project. With their collaboration, our projects demonstrate these values and a shared vision of sustainability.
We are thrilled to see green consciousness moving so swiftly into the mainstream. With our extensive knowledge and experience, we come poised to assist clients and communities as they join the rising tide of the green building movement. As we move forward, we continue our work to create sustainable homes, buildings, and communities that are intelligently planned and truly livable, places that fully welcome all of us, our children, the elderly and those with disabilities. Places which, in a word, are whole.
SASY (Schenk-Atwood-Starkweather-Yahara) Neighborhood Association
 What is SASY?
The Schenk-Atwood-Starkweather-Yahara neighborhood (or sometimes simply 'Schenk-Atwood') is located on the near-east side of Madison, Wisconsin. It stretches from the Yahara River on the west to the Starkweather Creek on the east, from East Washington Avenue on the north to Lake Monona on the south.
The SASY Neighborhood Association was formed in 1999. The neighborhood association works with our Districts 6 and 15 Alders on the Madison Common Council to represent the interests of neighborhood residents, businesses and organizations.
LGBT-Friendly Senior Cohousing at Union Corners
"A broad coalition of individuals and organizations in Madison Wisconsin are exploring the possibility of including a LGBT-Friendly Co-Housing Community in a proposed mixed-use redevelopment project on the city's East side."
Visit on Facebook and read more about the project.
Caroline Werner and John Steines on Union Corners from Isthmus, 8/20/2013
LGBT-Friendly Senior Cohousing in the News
Watch this space for periodic updates on LGBT and senior-friendly cohousing. Click on the links below:

LGBT-Friendly Senior Housing Opening Across the U.S.

Cohousing in the Works at Union Corners

Cohousing Workshops in Madison Press Release

Cohousing Developments on the Rise in Madison 6-28-15

UPDATE 2017: MESCoH evolved into a new cohousing community. The Union Corners site fell through and a new cohousing project is underway in the Atwood neighborhood on Winnebago Street. For more information, visit CohoMadison.